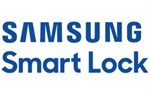 Model No :

*SAM-SHPA30FCDBEN
Name :

SHP-A30
Origin :
Color :

Bronze
Application :

Consumer
Features &
Specifications
The Smarter Way to Get In
3 Smart Access Modes
Fingerprint
User Access Code
Mobile App (WiFi)
IoT Smart Lock
Stay in Control
Unlock or lock your door remotely from anywhere with your smartphone.
Remote Access
Send one-time-use or scheduled PIN codes to guests.
Real-Time Status
Check who is in and out on your smartphone anywhere and anytime.
Samsung Smart Door Lock App
Apple Store: https://apps.apple.com/hk/app/samsung-smart-doorlock/id1385963851
Google Play Store: https://play.google.com/store/apps/details?id=com.sds.hms.iotdoorlock&hl=en
Smart Features
Double Authorization
Added security with dual PIN code and fingerprint authentication.
Privacy Mode
Secure your privacy in-home by preventing door unlocking from the outside
Auto Locking Mode
Set door lock mode based on your preference (10/30/60/120 seconds).
Specifications
Model

SAM-SHPA30FCDBEN (Auxiliary Lock)

Backset

60mm / 70mm

Door Thickness

35mm – 55mm (1-3/8" to 2-5/32")

Voltage

4 AA Alkaline 1.5V Batteries (LR6) (6V)

Emergency Power Source

9V Batteries (6LF22)

Operation Method

Mobile App (WiFi) / Password / Fingerprint

Weight

2.1 kg (including both inner and outer bodies)

Size (WxHxD)

Outer Body

71mm X 136mm X 32.7mm

Inner Body

77mm X 184.1mm X 50.3mm
DISCLAIMER
All information is subjected to change at any time without prior notice by The PLC Group or its associated partners/suppliers. Should there be any variations in product functionality, outlook, technical specifications, documentation, service, warranty, promotions and/or pricing, the actual offering at the time of purchase shall be the confirmed version.
The website information is for reference only. For updated details, please contact The PLC Group.
In case of dispute, The PLC Group reserves the right to the final decision.
If there is any inconsistency or conflict between the English and Chinese versions, the English version shall prevail.