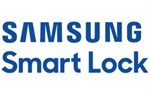 Model No :

*SAM-SHPDH537MUVK
Name :

SHP-DH537
Origin :
Color :

Dark Brown
Application :

Consumer
Features &
Specifications
THE CLASSIC
SHP-DH537 Smart Door Lock
Back to Basics
3 modes of access
User Access Code
RF Sticker / Tag / Card
Emergency Keys
Smart Features
Low Battery Alert
Doorlock will notify you when the batteries are low and need to be replaced.
Volume Control
Adjustable volume or mute.
Anti-Theft Features
Safety Button
To open the door from within, users simply press the button and turn the handle therefore preventing any potential outside break-ins from intruders.
Random Security Code
Enter random digits before your password to reduce risk of intruders checking fingerprints.
Double Authorization
Requires password & RF Tag / Card combination to unlock.
Anti-theft Mode
Once you set up this mode, the alarm sounds when a thief tries to exit from the door.
Security Lockout Mode & Tamper Alarm
Lock stops operating for 3 minutes with 5 invalid PIN code attempts. The lock will sound if intruders attempt to force open the door.
Specifications
Model

Copper

SHP-DH537MCVK

Dark Brown

SHP-DH537MUVK

User Access Code

up to 100 sets

RF Card Registration

up to 100 RF tags / cards

Size (WxHxD)

Outer body: 81.9mm x 320mm x 66.8mm

Inner body: 79mm x 290mm x 80.3mm

Weight

2.7kg(including both inner and outer bodies)

Door Thickness

45-60mm(1-3/4" to 2-3/8")

Backset

70mm

Power

DC 6V AA (LR6) Alkaline batteries x 4

Mechanical override keys

5pcs
SHP-DH537 is now available at selected official dealers: http://www.plc.com.hk/eng/locations/dealer-network.aspx
DISCLAIMER
All information are subjected to change at anytime without prior notice by The PLC Group or its associated partners/suppliers. Should there be any variations in product functionality, outlook, technical specifications, documentation, service, warranty, promotions and/or pricing, the actual offering at the time of purchase shall be the confirmed version.
The website information is for reference only. For updated details, please contact The PLC Group.
In case of dispute, The PLC Group reserves the right to final decision.
If there is any inconsistency or conflict between English and Chinese version, the English version shall prevail.