Samsung SHS-5050 Declaration letter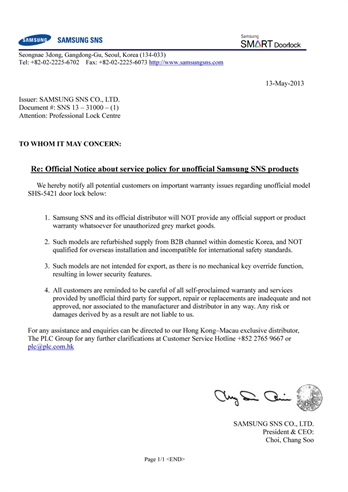 The PLC Group is the only authorized company designated by the Korean manufacture (Samsung SNS) as the Exclusive Distributor in Hong Kong & Macau since 2009 for all sales and official warranty protection.
With Samsung Smart Doorlook trademark, O.M.W. icon and sold by PLC shops and authorized dealers are genuine goods. O.M.W. icon means original manufacturer's warranty. We ensure to provide 100% quality assurance and our team emphasize the professional, excellent after-sale support, dedicated attitude and technical services.
All other self-proclaimed warranties by parallel importers and unofficial dealers for all Korean product versions are unaffiliated and unqualified to provide authentic warranty and services. Some of damaged or bad quality parts are assembly into the second-hand goods which haven't passed the factory quality assurance, pose a threat to the customers' home.
Please remember that all genuine goods must have Samsung Smart Doorlock trademark and 2-year warranty protection (using original parts to repair).
To obtain purchase protection, please visit to the PLC shops or authorized dealers.
Please click here for more details and contact PLC Customer Service Hotline (852) 2765 9667 for further enquiries.
Check the dealer list, please click here and choose brand <Samsung SMART Doorlock>.